Sterling Sandmann Knight (born March 5,1989)is an American actor,singer-songwriter,comedia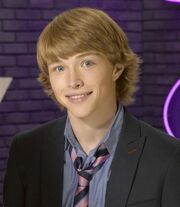 n,and musician.He is best known for role for 2009 film 17 Again as Alex,in Sonny with a chance and So Random!as Chad Dylan Cooper,and in Disney Channel original movie Starstruck as Christopher Wilde.
Personal life
Edit
Sterling Knight was born in Houston,Texas.He has a sister Samantha Scarlett,and brother Spencer Shuga.He enjoy golfing,snowboarding ,and guitar.Sterling form a Youtube band with fellow star Matt Shiverly named Connecting Channel (connect between Disney Channel and Nickelodeon).
Ad blocker interference detected!
Wikia is a free-to-use site that makes money from advertising. We have a modified experience for viewers using ad blockers

Wikia is not accessible if you've made further modifications. Remove the custom ad blocker rule(s) and the page will load as expected.