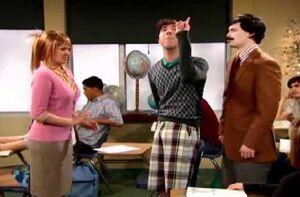 Rufus wil do the new sketch with Mr. McNamara in Rufus: Kid with Excuses 2 ft Mr. McNamara will premiere in this episode coming soon.
Rufus was saying to his Substitute teacher Mr. McNamara and his daughter Shannon for take your daughter for work day.
Matthew Bailey as Rufus
Daimen Johanssen as Mr. McNamara
Zora Lancaster as Shannon McNamara
Chad Dylan Cooper as Bob
Shayne Zabo as Student 1
Audrey Vale as Student 2
Tawni Hart as Student 3
Demi Lovato as New Student
Ad blocker interference detected!
Wikia is a free-to-use site that makes money from advertising. We have a modified experience for viewers using ad blockers

Wikia is not accessible if you've made further modifications. Remove the custom ad blocker rule(s) and the page will load as expected.